Experience the Victories and Challenges of Yom Yerushalayim
with Gershon Rechtman
 "Sovo Tsiyon VeHakifua"
Learn about the plight of pre-State
Jerusalem
, the seige on
Jerusalem
during the War of Independence and the tactics used to break the seige.
Visit the Castel National Park and walk to top of the fortress for a magnificent panoramic view. Overlooking the fortifications we  learn about the courageous attempts to conquer  this essential stategic location .
Continue to Ammunition Hill to learn about the Liberation and Unification of divided
Jerusalem
during the Six Day War. We tour the highly fortified position, watch a fabulous audio visual presentation and pay respects to the fallen heroes.
Bring a picnic lunch
See the "City Line" which divided the city, past Abu Tor and East Talpiot.
Conclude with a  visit to Kibbutz Ramat Rachel and  the Olive Tree Memorial where we contemplate
Jerusalem
into the future.
160NIS
150NIS (members)
Call now to reserve your place 560-9110
hosted by Yael Deutsch and Perel Wachsman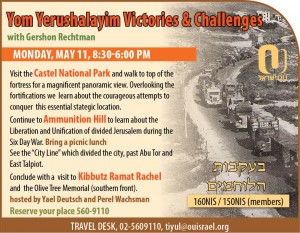 Bookings
Bookings are closed for this event.