Fully booked!!!
Monday, March 2, 3:15-6:00PM
Know your neighborhood of Rechavia
A unique walking tour with EZRA ROSENFELD
We all know the neighborhood of Rechavia; many of us live there. But who knows how and when it started? Who lived there? When did the "Yekkes" came? What used to be on the site of the giraffe playground? What was really supposed to be on the site of the Gymnasium High School Building and why, in a neighborhood whose streets are (almost) all named for North African rabbis?
All this and more as we walk through the shaded streets of this beautiful and historic area.
65 NIS
55NIS (non-members)
Register now at 560-9110
Hosted by Rivka Segal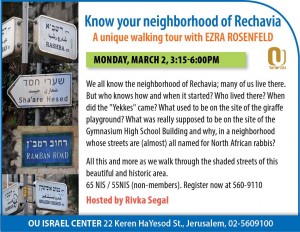 Bookings
Bookings are closed for this event.