Join us for a tour with Debra Applebaum of the Bible Lands Museum. Discover the wonders of ancient cultures and their relationships with the Jewish Nation.
Special emphasis will be placed on the new exhibit of Dead Sea Scrolls.
June 15- 1:00-4:00 pm
Call the Reservations at: 02-5609110
55 NIS
35 NIS special senior fee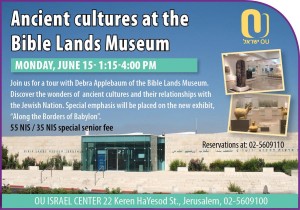 Bookings
Bookings are closed for this event.