Sunday afternoon,April 26
1:00-4:30
Discover the Jerusalem Biblical
Zoo
with tour guide/Zoologist
Dani Barkai
Jewish Animals:  Tour  the Jerusalem Biblical

Zoo
with an emphasis on the subject of animals in Jewish sources. We will combine short walks and short rides on the

zoo

train, looking at and discussing lions,
leopards, cheetahs,

bears, wolves, the Small Animal Building, the Biblical Animal Preserve, and lots of other things.
Call the Travel Desk to register at: 02-5609110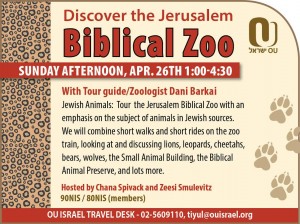 Bookings
Bookings are closed for this event.