Join us for a Golan Get-a-way
Thursday, August 6 – Sunday, August 9
Four days/three nights
Experience the Golan like never before…
Learn the stories in Tanach that happened here
Walk in the battlefields that shaped our lives as a Nation
Taste the unique flavors and hear the incredible stories
breathe the fresh mountain air
8:00am
 Pick up at Har Nof
8:30am
 Pick up at the OU Israel Center
Meet our dynamic and very knowledgeable tourguide, Shai Szupek
Drive up to the
Golan
to Kfar Omanim (a beautiful and quaint artists' village)
Lunch at Yaeli's
Time to look around the village
Continue on to Gamla to learn about Jewish Heroism in the Past
Experience the dramatic saga following in the footsteps of the Jewish army going to battle the Roman Legions who were beseiging the City.  Learn about the connection between Gamla and Jerusalem.  Enjoy the magnificent view from the rugged landscape.
On to Midreshet Hagolan in Chispin and check in to your room.
Shiur with Rav Aviya Rosen on
Heroism in the Battlefield from the Tanach times until Today
BBQ Dinner   Followed by a unique lecture on Who is afraid of Og the King of Bashan.
Visit Tel Saki to see Jewish Heroism in our days
and learn about the connection between the battles in Gamla and Tel Saki.
Visit the Ramat Hagolan Winery for an interesting and tasty tour.
V.I.P Tour to a unusual oil development site for natural oil reserves in Israel.
Israel is blessed with a vast oil shale resource., This new 
Conversion Process
 enables us to extract the oil from the oil shale rock "in place" without any "mining".  through heating, converts the organic matter in the rock to lighter hydrocarbons (light oil).
 Return to Midreshet Hagolan to prepare for Shabbat
 Musical Kabbalat Shabbat
Followed by Maariv
Seudat Shabbat
followed by Oneg Shabbat
Shabbat Day
Divrei Torah and Delicious seudot
Afternoon (easy) walking tour of the water reserve in Chispin and learn about 3000 years of Jewish settlements in the
Golan
Motzei Shabbat
:  Late night adventure tour  in the
Golan
.  Learn about 2000 years of Tefillah and Kehillah in the
Golan
.
Visit Kesem Hapri to experience a farmer keeping shmittah.  Pick the fruits for the Ozer Bet Din and enjoy the farm.
Lunch
Arrive by in Yerushalayim between 
5:00-6:00pm
.
4,450NIS per couple
3,300NIS (single supplement)
hosted by Yigal and Rivka Segal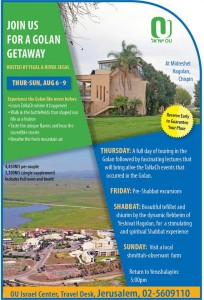 Bookings
Bookings are closed for this event.