Monday, June 22 -8:15am- 7:00 pm
Visit Zichron Ya'akov  with Ruchama Alter and explore…
dedication, heroism, sacrifice and success.
Learn of the heroic struggle of the early settlers of Zichron in the First Aliyah Museum.  Visit, NILI, the house where Jewish spies changed Zionist history.  Refresh yourselves in Ramat Hanadiv, the garden dedicated to Baron Rothschild,Zichron's benefactor, and finish with a wonderful musical interlude at the Nisco Museum of Music boxes in Ein Hod.
Bring your own picnic lunch or enjoy local Mehadrin restaurants..
200NIS
190NIS (members)
Hosted by Yael Deutsch and Rivka Grunberg
Call the Travel desk to register: 02-5609110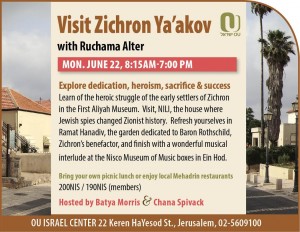 Bookings
Bookings are closed for this event.