Walk through Ramat Rachel with Lee Glassman
Wednesday, August 26, 4:00– 7:00
Ramat Rachel has been the scene of tension & conflict from the time of Ruth & King David, to the War of Independence & 6-Day War.  Join us as we uncover the 3100 year History of this fascinating place.
60NIS
50 NIS (members)
Call 02-5609110 to reserve your place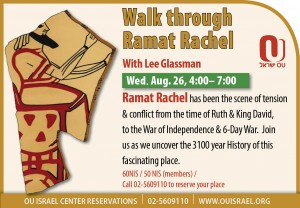 Bookings
Bookings are closed for this event.