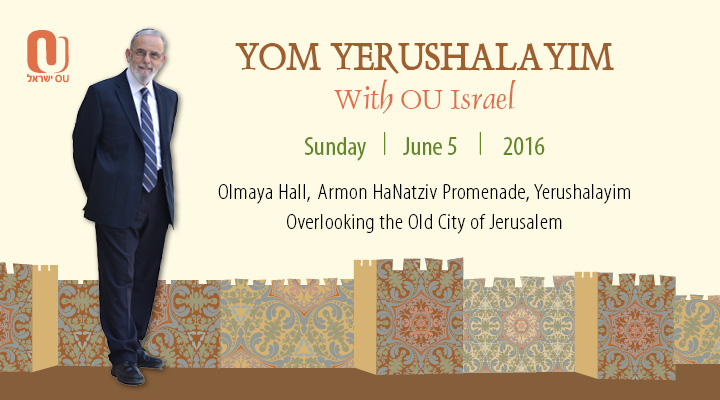 As We Pay Tribute to our Esteemed Colleague & Friend Menachem Persoff for his Years of Dedication & Service
Yom Yerushalayim Celebration with OU Israel
Sunday
 ,
June 5
, 2016 
At  Armon HaNaziv Promenade, Yerushalayim Overlooking the Old City of Jerusalem
Festive T'filat Shacharit at 
8:30

Followed by Gala Breakfast at 
9:45
Menachem Persoff and OU Israel have been partners for close to 30 years. In the early days, Menachem trained NCSY advisors while yet at the Jewish Agency, served as NCSY National Shaliach, and built up many of the OU Israel Center educational projects that are flourishing today. As Director of the Israel Center, he oversaw the move to the new building, absorbed the youth programs into OU Israel, and co-founded Machon Maayan for NCSY public school graduates, among many other achievements. 
In more recent years, Menachem built up the OU Israel Free Spirit Taglit-Birthright groups from six to sixty groups per annum, his now famous calling card being the outstanding Bar-Bat Mitzva project for the unaffiliated Birthright participants. His weekly Torah Tidbits column, "Divrei Menachem" and activities on behalf of "teens at risk " with The Zula, THE PEARL & HAROLD JACOBS ZULA OUTREACH CENTER. continue to be a living tribute to the many contributions Menachem has made for OU Israel and the community at large.
Per Menachem's request, donations made in his honor will be earmarked for The Zula.
The Zula
THE PEARL & HAROLD JACOBS ZULA OUTREACH CENTER is a drop-in center in downtown Yerushalayim that provides a safe, nurturing environment for at-risk teens and young adults, welcoming kids who feel unwelcome almost everywhere else. Most are involved in substance abuse or other antisocial behaviors, have dropped out of school or are estranged from their families. The Zula staff helps them learn to overcome their challenges and turn their lives around.  
In 2005, thanks to a generous donation by the Jacobs family, the Zula opened its current location on Yaffo Road in memory of Pearl and Harold Jacobs z"l.
For reservations:
Phone:  02-560-9104 or 02-560-9125
Couvert NIS 180 per person
Donations given to the OU Israel Center are tax deducible according to Paragraph 46 of the Israel Income Tax Code.
(The cost of the tickets is not considered a donation)
Bookings
Bookings are closed for this event.