Written by Shelley Shafran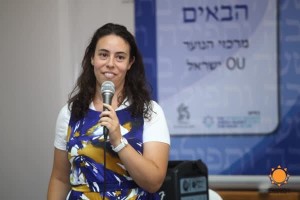 It began innocently enough, as these things usually do. Six months ago, in the Jack E. Gindi Oraita   youth group meeting in Teveria one of the boys mentioned he had never been to Jerusalem, and he desperately wanted to visit.
When you hear OU you usually just think of Kashrut. If you live in Jerusalem maybe you imagine the Israel Center, that place for adult Anglos to volunteer and hang out. If you go up to the second floor you'll find the administrative offices for OU Israel, the command center for Avodat Kodesh because what most people don't realize about the OU is that the money from Kashrut gets put right back into the Jewish people. They run outreach programs for soldiers, extensive programming for English speaking and Israeli youth and among their most important work with high school students are the Oraita Clubs providing programming and support for youth at risk. The boys in the Oraita Clubs come from some of the poorest towns in Israel. Many come from single parent homes. They are neglected by the government, the school system and sometimes even their families. If you saw some of these kids on a dark night you'd probably hightail it over to the other side of the street. Kiruv is certainly a goal of the Oraita Clubs, but most importantly when faced with a future of alcoholism, crime and substance abuse, Oraita provides these kids with a framework, a safe space, Madrichim who give them unconditional love, fierce loyalty and support. Oraita literally saves lives.
When I was 16 my grandfather was already quite sick, and his doctors insisted he begin dialysis. He refused to start treatment until he brought all 6 of his grandchildren to Israel. It was his dream, and he made it happen. I had just spent the summer in Israel for the first time and then just a few weeks later, the night after Yom Kippur here I was again in Jerusalem with the whole family. Two years later my grandfather passed away. He lived to see his grandchildren pray at the Kotel, but he never saw that four years after that trip I made Aliya and 12 years on I'm still privileged to call Jerusalem home.
There is a beautiful, divine synchronicity in the realization of a dream, the articulation of the wish itself, the relationships forged behind the scenes, the financial resources, logistical manpower.
Rabbi Avi and Pnina Berman came to Vancouver on Shlichut in 2001, just a few weeks after my grandfather passed away. Rabbi Berman put together a power team in Vancouver to bolster and invigorate Jewish youth programming through NCSY in the city and across the region. Among the players on this team was my mom. When the Bermans returned to Israel and Rabbi Berman took on the position of Director General of the OU my mom connected with the OU's work here, and her visits to me in Israel generally include a few days driving around the country with Rabbi Berman visiting the Makom Balev and Oraita Youth Clubs which is how she found herself in Teveria listening to an Israeli kid, a future soldier and defender of the Jewish people, lamenting that he had yet to visit Jerusalem. And this could just not be. How could we hand a kid a rifle and expect him to fight and defend where he had never stood, to fight for something he had never felt?
My grandparents worked tirelessly on behalf of the Jewish people. Whether through large scale philanthropic work, smaller charitable giving, offering friendship and emotional support to community leaders and especially on the most intimate level of ensuring that the most vulnerable members of the community had a place to go for Shabbat and Chagim. That place was often their own Shabbat table. There are many plaques hanging in institutions in Canada and Israel that stand as testament to this love of the Jewish people and the land of Israel. But their love was so great that the depth and breadth of their giving could not be contained to one lifetime. Their hopes and dreams for the Jewish people are still larger than this world. If my grandfather, a holocaust survivor, would not rest until his own grandchildren living in the diaspora had the privilege to walk the streets of Jerusalem then he certainly could not bear to hear that an Israeli child had yet to live the dream too. Neither could my mom.
Today, 6 months after one kid uttered a wish to visit Jerusalem, 160 boys from 11 Israeli cities including Dimona, Teveria, Sderot, Acco and Natzeret Illit came to Jerusalem, many for the first time. They toured Ir David in the afternoon, ate dinner in the Old City followed by a concert with Golan Azulai and inspirational words from Rabbi Avi Berman, Minister Uri Ariel and Chief Rabbi of Tzfat HaRav Shmuel Eliyahu. Finally, they were given new sidurim in memory of my grandparents before joining the mass of Am Yisrael at the Kotel for Selichot just days away from Yom Kippur.
16 years ago my grandfather had the merit to escort his 6 grandchildren to the Kotel. Tonight, through the tireless work of the OU staff, volunteers and Madrichim, in memory and honor of my grandparents, David and Lil shafran, 160 children were blessed with this privilege as well.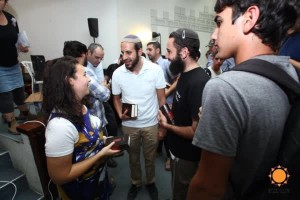 There is a beautiful, divine synchronicity in the realization of a dream. You too can play a part in providing the means and opportunity so that every Jewish child merits to ascend to Jerusalem. To learn more about the OU's work with at risk youth and the Jack E. Gindi Oraita Clubs click here:
https://www.ouisrael.org/programs/oraita-clubs-pool-tables-study-halls/