Welcome to the OU Israel India adventure blog!
Through this medium we hope to give you frequent updates of what we have seen and experience on our 13 day experience in India with Ari and Ari (Greenspan and  Zivotofsky)
Thursday February 4, Day 1
 We arrived in Mumbai (formerly known as Bombay) Airport at around 8:10 AM local time. Believe it or not, the time difference between Israel and India is 3 AND A HALF HOURS- they couldn't just round it off? Anyway, we were greeted at the airport by our very friendly and professional tour operator Ralphy who runs his tours as a family business with his wife, Yael and their children. Ralphy explained on our bus ride into Mumbai that the city was really 7 islands linked together and was home to over 20 million people! The view from the bus was a combination of astonishment at seeing some of the poverty we had heard about on the streets and also the very erratic driving behavior of Mumbai drivers. Anyone from the US who is afraid to drive in Israel should come to India for one day to experience how driving life is here and they will never be afraid of Israel traffic patterns again!
Our first stop was a tour and lunch at the Chabad House of Mumbai which had experienced a horrible terrorist attack eight years ago, killing 6 people including the Chabad House SHliach and his wife, Rabbi and Mrs. Gavriel Holzberg HY"D. During lunch there, the current shliach, Rav Yisroel told the story of the attack and showed us the signs that still linger in the building, including the bullet hole in the Aron Kodesh in the shul where 3 of the victims were killed. Ralphy had described to us earlier his personal relationship with Rabbi Holzberg and their joint efforts to build a mikveh in Ralphy's shul which we visited later in the day.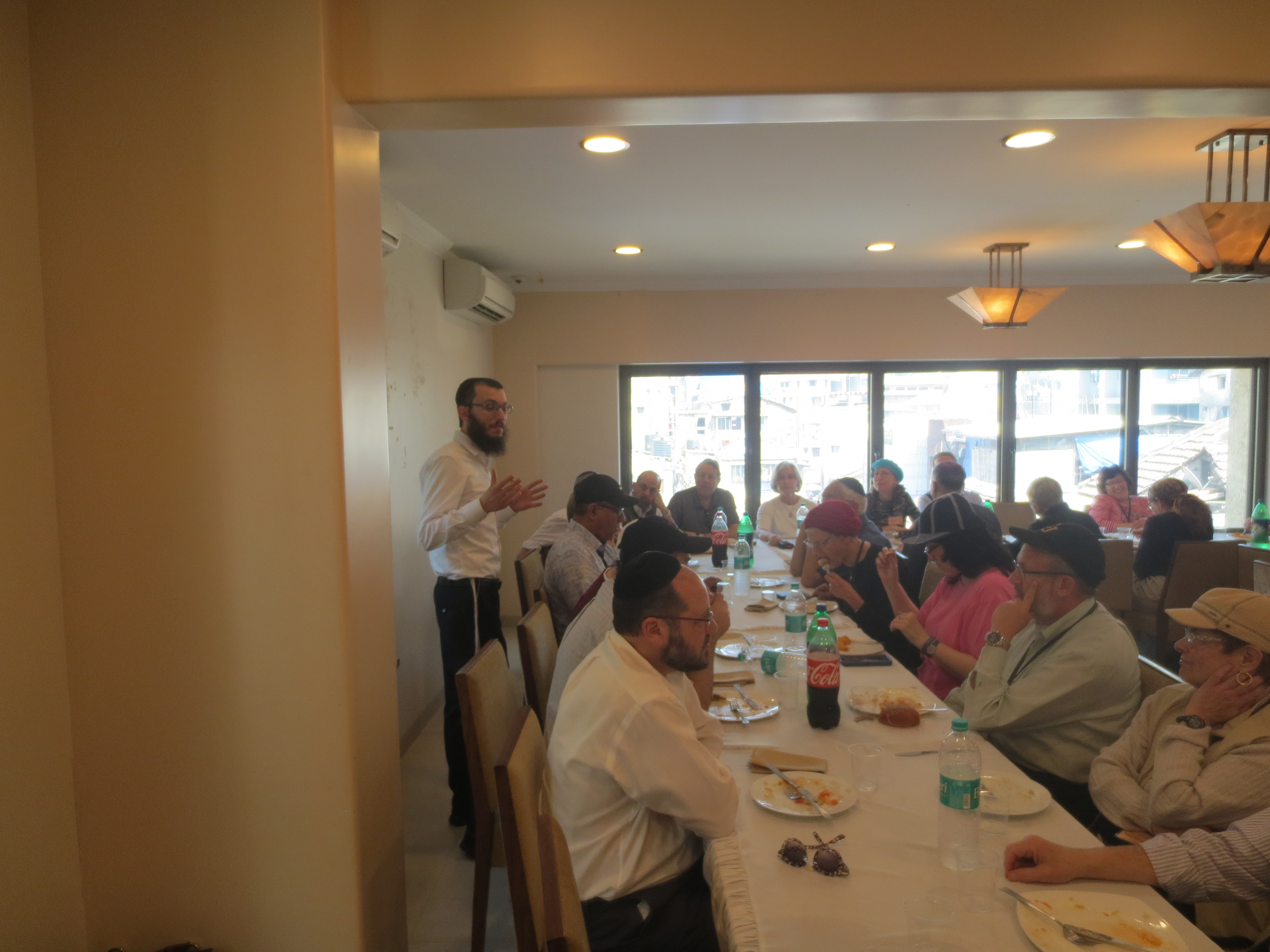 After lunch, Yael led us on a tour of two of the shuls of Mumbai, The Magen David Synagogue and Tifereth Israel. The Magen David shul celebrated its 150th anniversary in 2011 and was renovated then but looks in great disrepair. Yael explained because of the 4 months of monsoons every year, buildings take a big hit every year. It looked like the shul was hardly used because of this damage, inside and out, but we were told that it is used which was a little shocking to us. The architecture was beautiful,  and you could feel the rich history the shul had.
The Tifereth Israel shul was obviously more active with a working mikvah and an armed guard as well! The fact that the mikvah had just been built gave a feeling of growth and a potential future for this community and we looked forward to seeing more on Shabbat.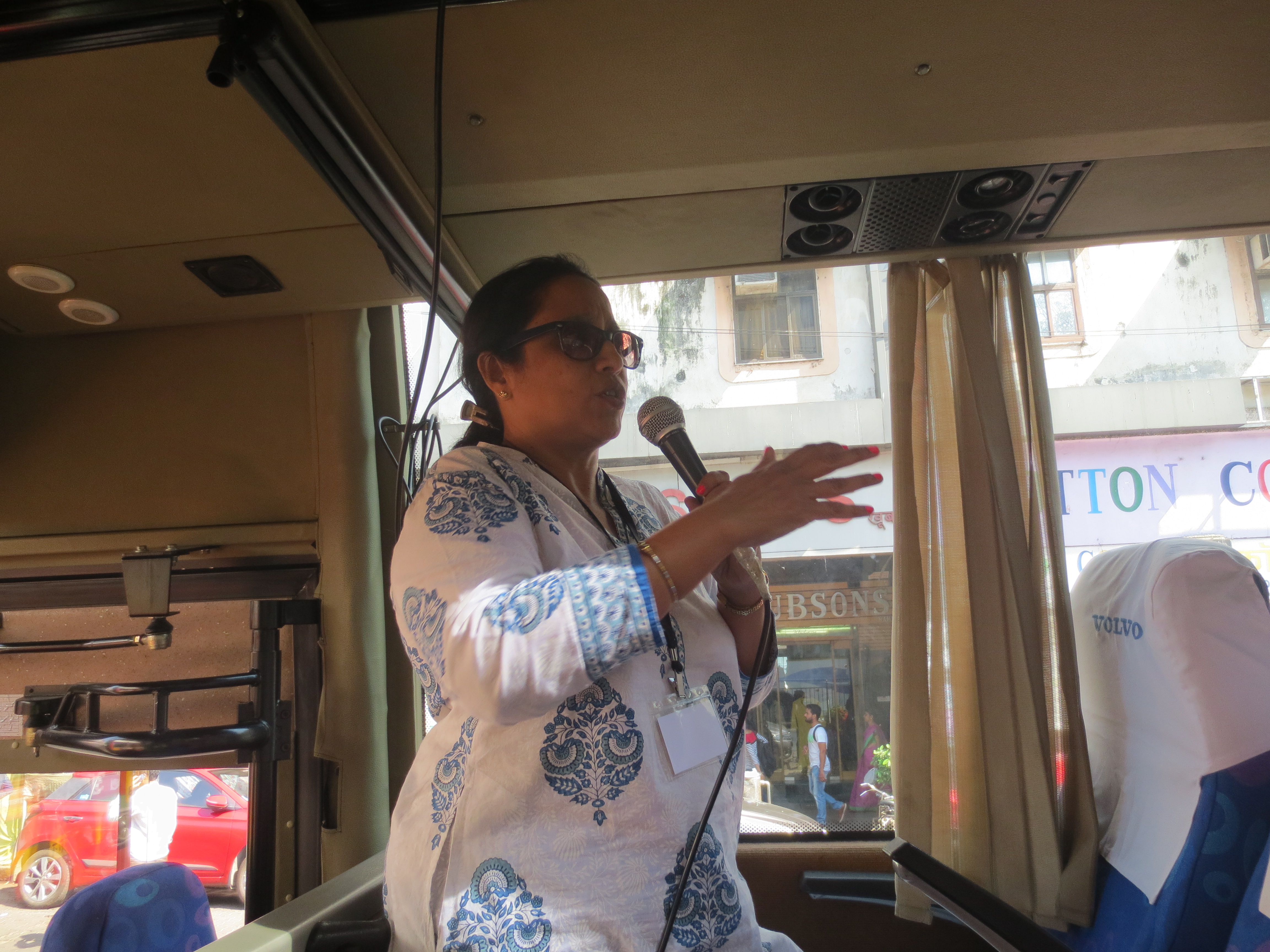 After checking in to our beautiful hotel and resting up, we were treated to a wonderful meal and a taste of the Ari and Ari phenomenon. When someone walks into a kitchen and sees an Indian oven called a Tandura, they would say that's nice and walk away. Ari Greenspan sees it and says "Let's make bread!" After verifying its kashrus, we enjoyed freshly made matzah type pitas courtesy of Ari and his new friends!
We are blessed to have a great group of 36 adventurers with us and are looking forward to day 2 of our adventure. Speak to you soon!!