OU Israel Travel visits the Fifth Quarter – Art Galleries and Workshop  in the Jewish Quarter of the Old City where Artists create, present and sell hand-made Judaica.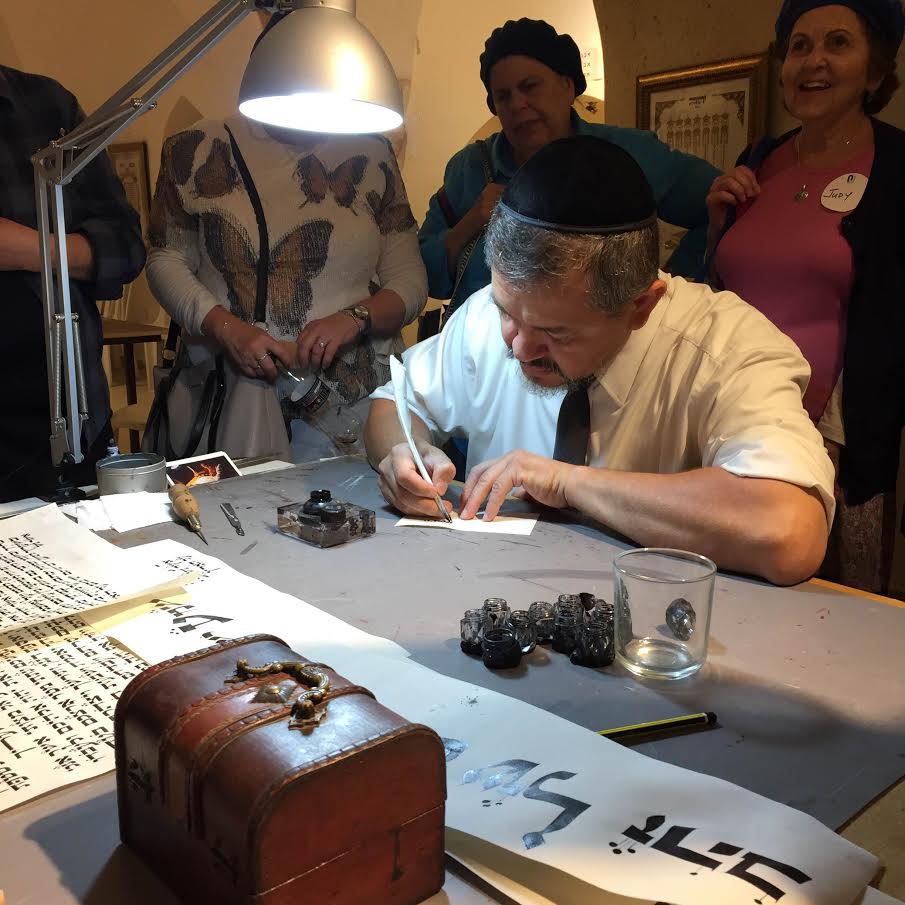 Packed into a short and concise afternoon tour of the Fifth quarter Gallery we met Tehilla, an artist who spoke from her heart to ours about her passion and need to express herself through her art.  She described how her essence found its way onto canvas,  filling the world with her spiritual energy.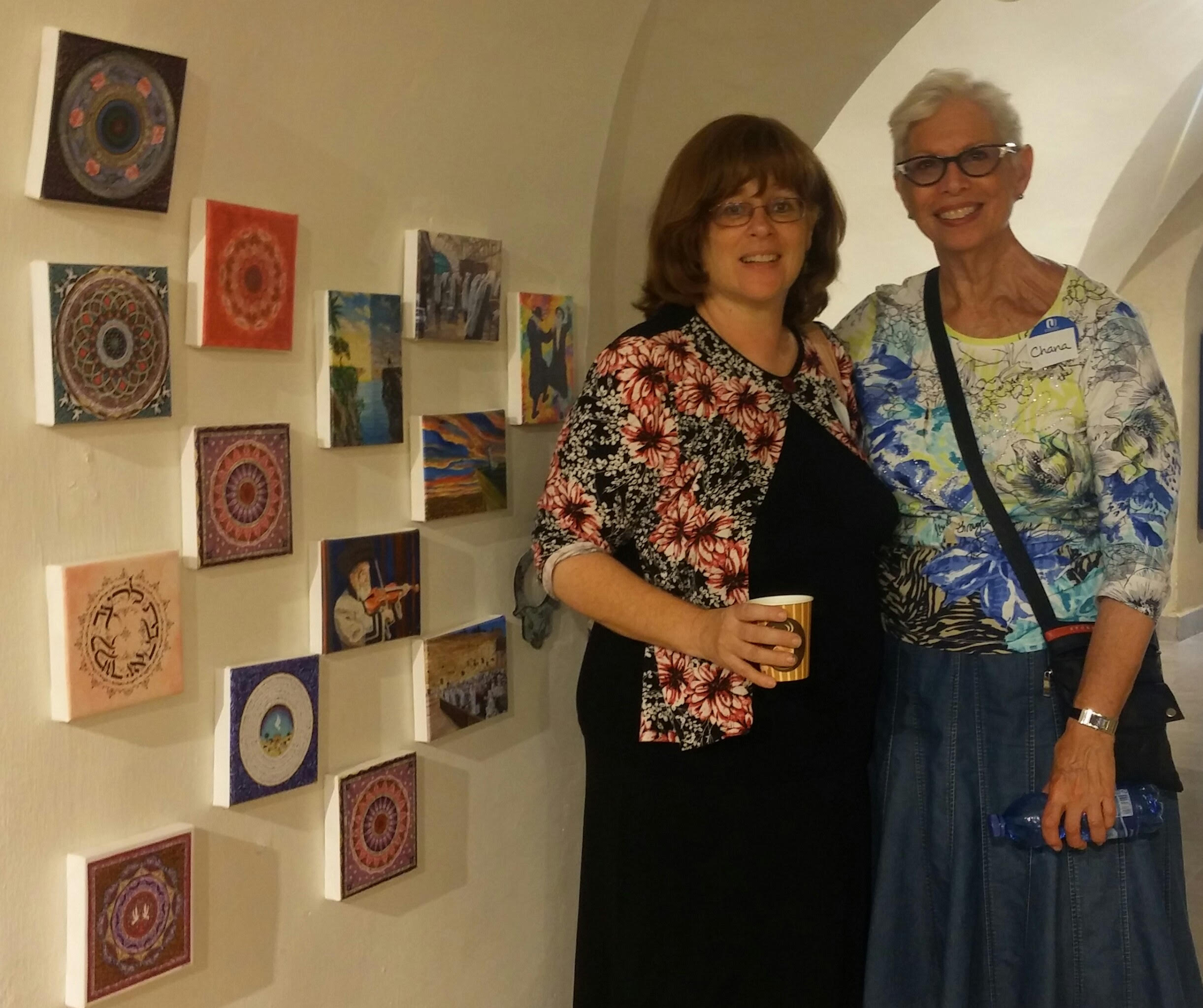 This was followed by a young, bright sofer, Kalman Delmoor, 27 from Minnesota to Jerusalem (Jerusalem Post Magazine , September 9, 2016) who enlightend us as to the differences between nusach Ashkenaz & nusach HaAri sofrut.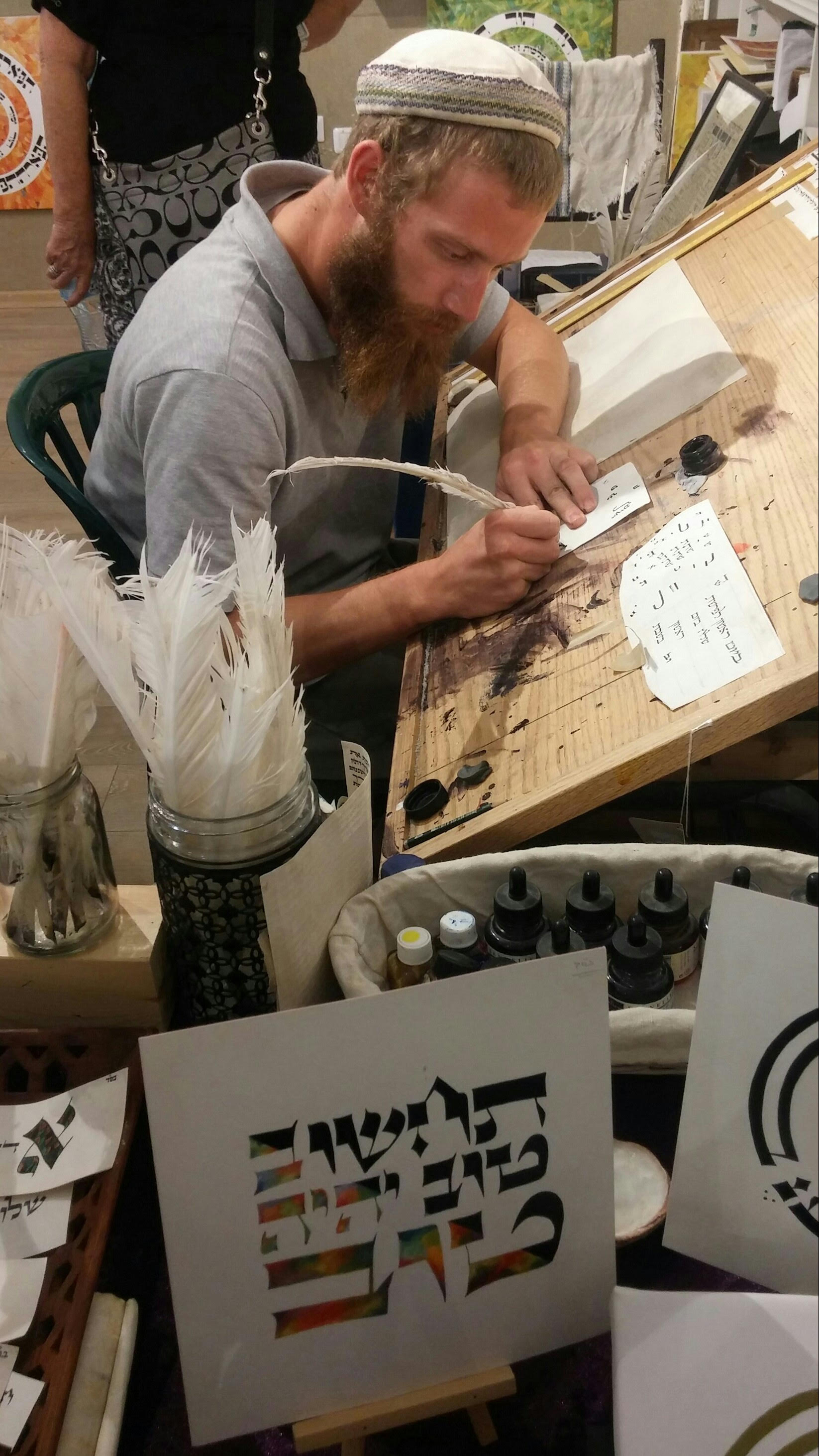 He illustrated this and showed us samples of his writing while responding to questions of interest from the members on our tour.    Next we were given designing tools and pieces of leather which we personalized and took home as mementos.
Another artist shared his experiences of his work and rescue of Torah scrolls worldwide showing us various ancient Torah scrolls from Europe and the Middle East that have been restored or are being worked on.
The tour culminated in a fascinating hands on combination workshop lecture given by Rabbi Yehuda Peretz, an oleh from Mexico who discussed his fascinating personal journey to Judaism.His story was introduced with Jewish songs played on his guitar and sang beautifully. He then gave a demonstration of his work as a sofer creating various beautiful Jewish religious objects. ( Text contributed by Frances Farago)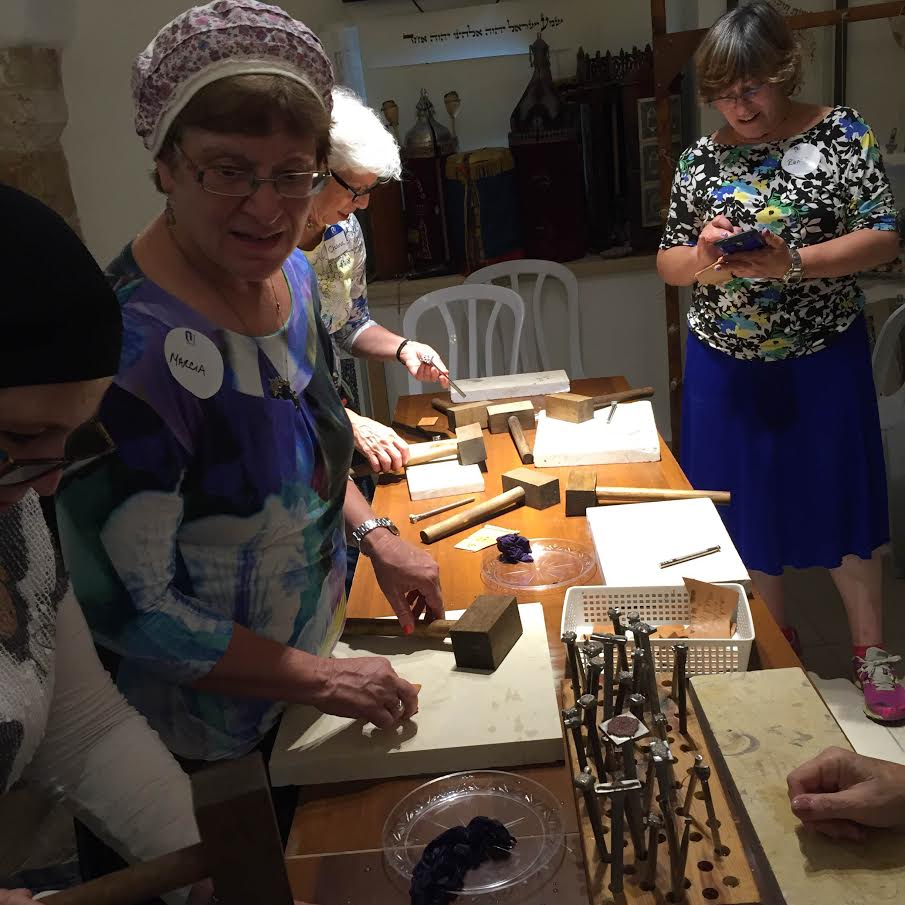 "wanting to end bein hazmanim on a positive note, my husband and I, accompanied by our 14 1/2 year old yeshiva bachur registered for the OU Israel Center's trip to the 5th quarter Gallery in the old city.
The afternoon was informative and exciting, offering the lay person an unusal peek into the world of religious art and day to day objects that we oftern take for granted." Mrs. Frances Farago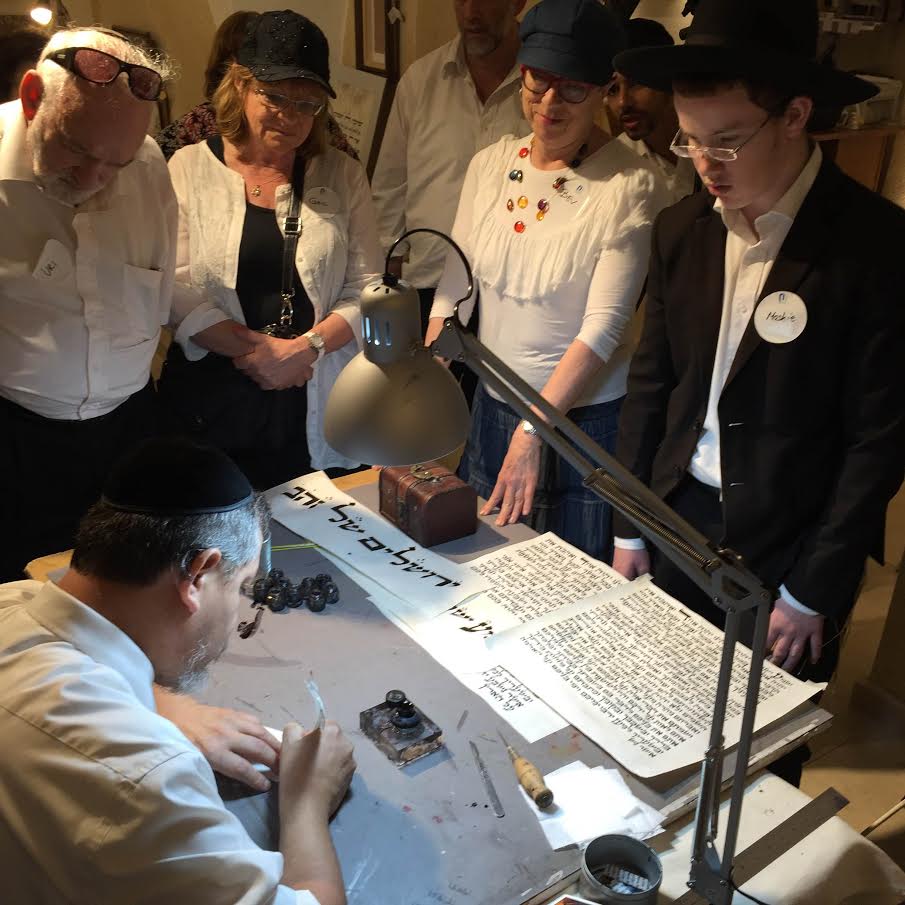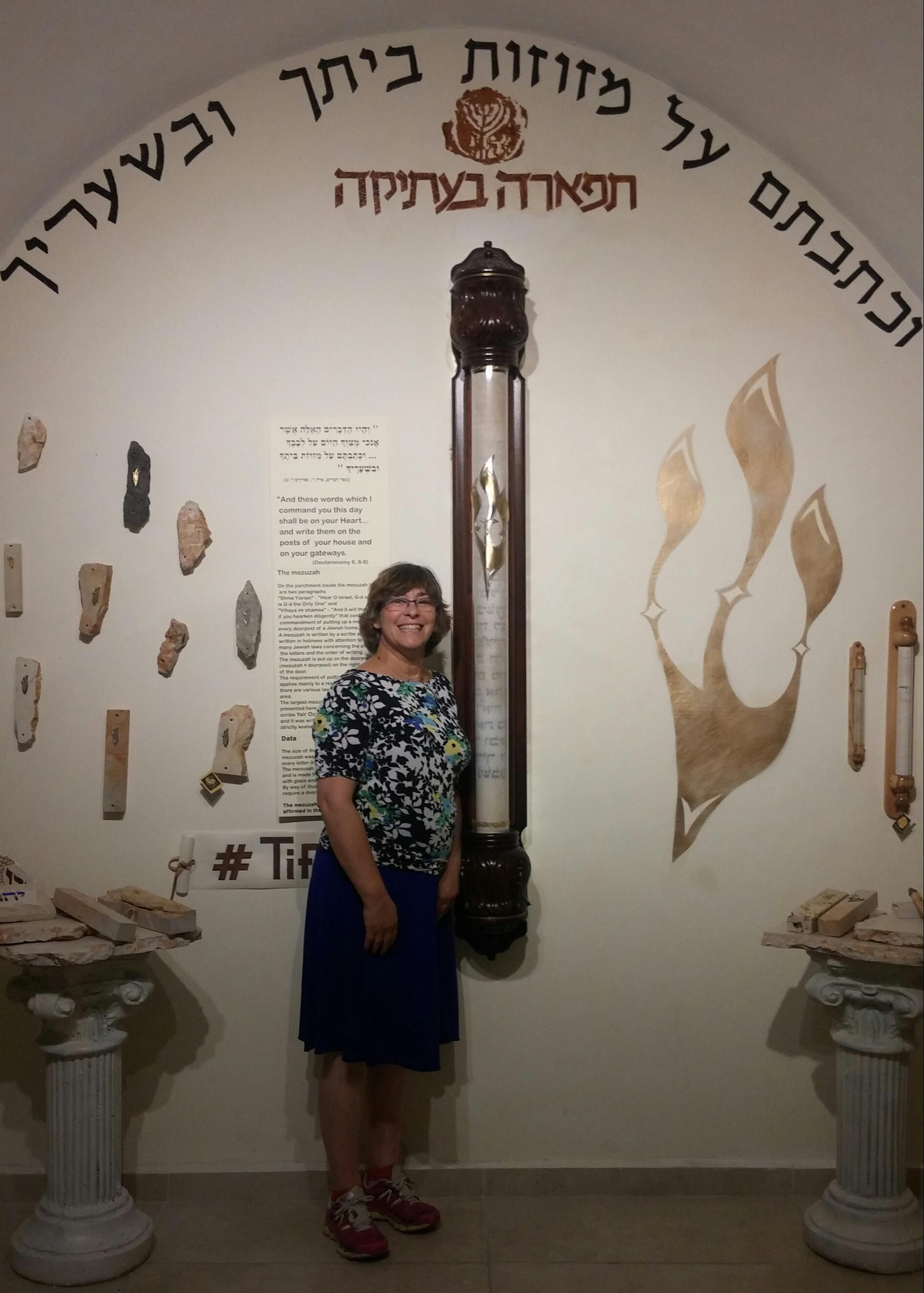 I'm so happy I went with the OU to "The Fifth Quarter". Not only did I find the perfect gift for a friend – a unique and beautiful hand painted ceramic bowl with the complete Psalm 121 painted around the rim – but I got to hear one of the artists tell of his journey from being a priest to becoming an Orthodox rabbi and sofer. It was also interesting to hear an accomplished artist tell of the challenges she overcame as a working haredi mother.
Judy S., Talbiyeh