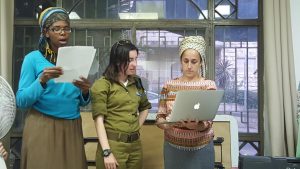 The Women's Performance Community (WPC) of Jerusalem was born amidst the persistent waves of terror here in Jerusalem and its surroundings. The WPC joined with a natural partner, OU Israel, to bolster Greater Jerusalem's women in a unique way – through their love of the performing arts. While the streets of Jerusalem were eerily empty for many months, women of all ages courageously streamed into the OU Israel Center to sing, dance, perform or even act as an appreciative audience.
UNITY & RESPECT THROUGH THE ARTS
This summer, the WPC took its mission a step further, assembling a group of 60 incredibly talented women – women of every age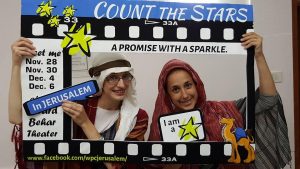 (from 7-70), every neighborhood and every sector of the Jewish community – to perform together. We are young mothers, retirees, little tykes, teens with nose-rings, women with headscarves, tank tops and turtle necks. Our goal of creating unity and mutual respect through the arts is coming true before our eyes.
In November 2016, we will stage an original musical production called "COUNT THE STARS – The Journey of Avraham and Sara." Our huge cast is marvelous, and we feel we are building bridges with every rehearsal. We hope not only to put on a spectacular show, with G-d's help, we are bringing more light to the world by uniting the women of the Greater Jerusalem.
We need your help to bring what can be a stellar production to the stage. Tax deductible donations can be made below and all donors will be listed in the show's playbill.

EMPOWER JERUSALEM'S WOMEN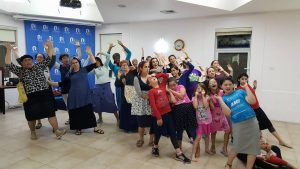 Your donations will help empower each of our women, each with her own story, to achieve a personal goal or overcome a personal challenge through performing. We're also hoping that our show will be such a success, we'll have income that we can share further. Any profits made from "COUNT THE STARS" ticket sales will go toward future WPC unifying projects and for at-risk young women in periphery communities around Israel through the OU Israel Youth Centers. With your help, we will mount a show that will inspire thousands of women, teach about our roots and heritage in an innovative and extraordinary way, and strengthen sisterhood.
Thank you in advance for your support, and for joining us on our journey to empower the women of Greater Jerusalem through their voices – to make our Jerusalem of gold shine more brightly than ever. Your donation helps transform "COUNT THE STARS" from a hope and a dream into a reality.
Best wishes to you and your loved ones,