This past September a very special flight touched down at Ben Gurion airport. Aboard were members of the ancient Jewish community in India known as the Bnei Menashe. After 2,700 years our brothers have finally returned home. From the airport many of these Olim embarked on their new lives in Kiryat Shmona, Tiberias, and Nazareth Illit, where the teenage members of the Bnei Menashe were welcomed warmly by                 The Jack E. Gindi Oraita  OU Israel Youth Centers in each city.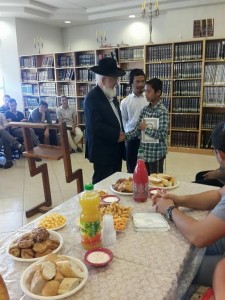 Oraita immediately got to work ensuring the Bnei Menashe felt welcome, and new groups were created catering specifically to their needs. "These youth have a new country, new language, new school and new culture to get used to," said Rabbi Avi Berman, Executive Director of OU Israel. "It is vital to provide them with a platform to discuss their challenges, learn about Eretz Yisrael and feel like they are part of the community. We expect them to join the IDF in just a few years."
"We are happy and excited to welcome the Bnei Menashe teens to the Oraita community," said Elyasaf Bitton, Kiryat Shmona Branch Manager. "After 2,700 years apart we have the great merit of seeing them return home. We hope that with the help of Hashem and their supportive counselors we will succeed in giving them the feeling that they have truly come home."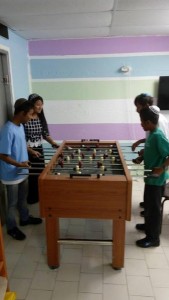 Not only are the Oraita clubs providing the Bnei Menashe youth with a positive and friendly environment, but they have also taken the initiative to give each boy a meaningful Bar Mitzvah celebration. In early November the club celebrated the Bar Mitzvah of a unique member – Yoel, one of the recent immigrants. Yoel's counselor taught and prepared him for his Bar Mitzvah, truly emphasizing the power of unity in Am Yisrael. As a gift, he received a brand new pair of Tefilin from the Oraita Kiryat Shmona branch, and he and his family celebrated the momentous milestone with friends and local Hesder Yeshiva students.
Or Inon Jerby, Kiryat Shmona Logistical Manager and counselor of the Bnei Menashe group, describes the Bar Mitzvah. "What is truly fantastic is that after all the celebrations and Torah reading, the Bar Mitzvah boy gave a Dvar Torah in thanks and recognition of the opportunity to put on Tefilin and read from the Torah in a synagogue in Israel. Yoel explained that from his perspective this was the completion of a circle – because he had the opportunity to become a Bar Mitzvah in Eretz Yisrael after thousands of years."
Join OU Israel on a unique Historic Adventure & Mission to Jewish India to meet with members of the Bnei Menashe there.